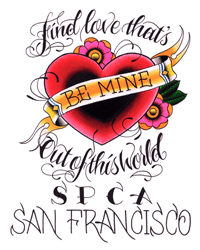 MickaCoo Pigeon & Dove Rescue got an awesome Valentine this year from The SF SPCA! They included us as a special guest both at their big, fun cocktail party on Thursday 2/13 as well as their Adoptathon on Saturday 2/15. We had a great time and made a lot of new friends for pigeons!
The SF SPCA is one of the biggest rescuers of dogs and cats in the Bay Area. They place about 5,000 animals in homes every year! As a big, well-established yet still innovative rescue with thousands of volunteers and supporters, The SF SPCA has tremendous reach and MickaCoo is eager to work together with such a strong partner on behalf of bird rescue.
While people are starting to get the message about adopting cats and dogs from shelters, they are way behind when it comes to recognizing the needs of birds (and other small, companion animals) in shelters. People are always surprised when I introduce them to the beautiful birds we rescue from shelters.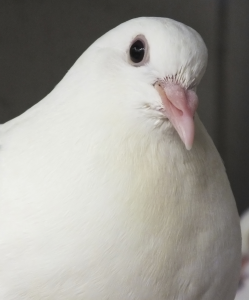 But MickaCoo is small! We have just one staff person, about 50 volunteers and about 400 donors.
And yet the work that we are doing is BIG! MickaCoo Pigeon & Dove Rescue was created to close a deadly gap in the SF Bay Area animal welfare community. When we started in 2007, all the other animals that wound up in the open door shelters- the cats, dogs, rabbits, parrots, reptiles, rodents, chickens and ducks, wildlife- everybody – had at least one rescue to help get them out alive when they ran out of time. Everybody except domestic (unreleasable) pigeons and doves. They stood in their cages, unnamed, unphotographed, unpublicized and unpromoted, and when their time was up, they were killed. But little MickaCoo has changed that and saved more than 600 birds' lives (directly) since we started and helped countless more.
But we can't keep up! Domestic pigeons and doves- bred and kept by fanciers, racers and hobbyists as well as poultry breeders- need help in numbers far greater than we can keep up with. Plus most folks don't even know that they exist, nor that they need homes nor what amazing pets they make- either indoors with the family or outside in predator-proof aviaries.
MickaCoo is really excited to engage the compassion and expertise of  SF SPCA staff and volunteers on behalf of the birds! Stay tuned for new developments!