On Friday, January 30th, animal lover and Palomacy supporter Charlene found a dove grounded and helpless in the gutter. His panic at being handled and the flocks of feral Ringnecks living wild in the area suggest he was living free rather than anyone's pet. That evening his cocked head turned into full blown torticollis (a neurological movement disorder characterized by a twisted neck) that frightened Charlene who rushed him to me. (We are overfull and I was trying to find an alternate placement but accepted him when his condition turned critical.)
He has a scrape on his chest and another on his head from some violent impact (no punctures found). I started him on antibiotics and anti-inflammatory.
There are many potential causes of torticollis including brain trauma, poisoning, spinal damage, vitamin deficiency, viruses, bacterial infection, tumors, etc. but in Jimmy's case, I think he is suffering from brain trauma that has been exacerbated by a stroke.
He was in better condition on Saturday, January 31st, able to self-feed and with mostly normal posture. Sunday, February 1st was good too.
On Monday, February 2, his condition took a sharp turn for the worse. I think maybe a blood clot broke loose and caused a stroke.
He had a bad day on Tuesday, February 3 and another on Wednesday. He couldn't stand properly and didn't even try to self-feed. He spooked frequently. I supported him with tube-feeding. He fears handling and struggled pathetically, unable to control his body movements.
Wednesday night, for the first time, it occurred to me that the only mercy I might be able to offer Jimmy could turn out to be euthanasia. He was fearful, panic-prone, inconsolable, helpless, unable to eat. While Bell, another dove with severe neurological problems, finds joy every day, Jimmy appeared to me to be suffering. We have rescued more than 600 birds and only euthanized four. It is, to me, truly a last resort, saved for when a bird has no hope for improvement or relief. We have cared for many very seriously compromised birds- we prioritize helping those most ill and injured. Some have made incredible recoveries. Some have died in our or our vets' care. If we can keep a bird comfortable, we provide hospice rather than euthanasia but, in the rare case we cannot comfort or ease the suffering of a bird, we have them euthanized. (See the story of Joy's Death.)
On Thursday, February 5th, Jimmy resumed trying to self-feed- a sign that perhaps there was hope for him.
Friday, February 6th

Today is Monday, February 9th. Jimmy's condition seems worse because, over the past couple of days, he makes pretty much no effort to self-feed. But today, for the first time in a while, he can stand (though his head rests on the floor of his crate) and so perhaps that is an improvement… He seems less panicky but I'm not sure if that is because my efforts to soothe and reassure him are working or if it is a sign of increasing weakness. He seems to be coping for the moment and if he wants time, I'll gladly give that to him.
We're seeing the doctors at Medical Center for Birds tomorrow. On the positive side, his GI system is working great and so far his respiratory system remains healthy (always a worry with a neurologically impaired, sedentary and/or tube-fed bird). We're taking things one day at a time and I'm doing my best to keep him as comfortable as I can. We have seen amazing recoveries… I'm not yet sure what the future holds for Jimmy. Just know that he is loved.
UPDATE February 11, 2015
Jimmy's condition started to slip on the evening of Monday 2/9.
By morning, his digestion was slow, his breathing starting to labor and his unblinking eyes were losing moistness. Late morning, he vomited and I knew he wasn't going to recover.
We had a 2:30 appointment for him in Oakley at Medical Center for Birds that day but by 12:30, it was clear that he was uncomfortable and needed immediate relief. I dropped everything and rushed him to All Pets Hospital where he was euthanized. It is very difficult sometimes to know when death will be the greatest kindness. I never want to quit on a bird too early but they suffer if you wait too long. I wish I had the ability to euthanize at home. Jimmy's last hour was one too many.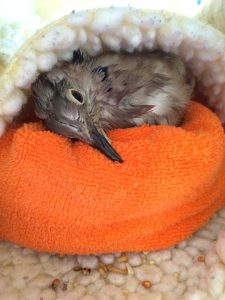 People from all over the world expressed their support for him on our Facebook page. He was loved. He is missed.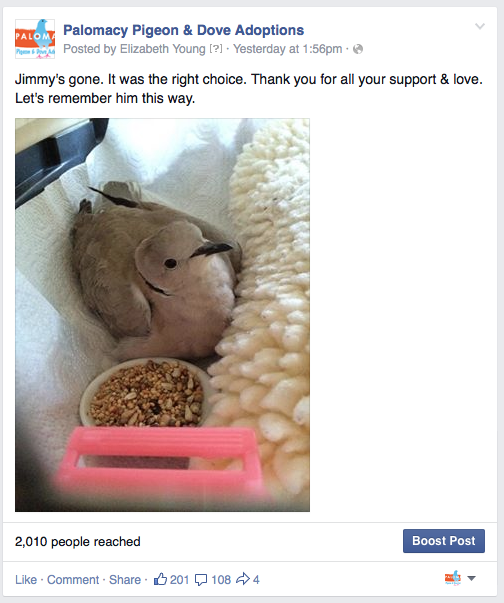 Please make a donation in support of our work if you can. Palomacy is the only rescue devoted to helping domestic (unreleasable) pigeons and doves in Northern California.