Look at the amazing aviary you helped to create! Remember the crowdfunding campaign that we organized to help Animal Place begin helping King Pigeons?
Thanks to your support, our efforts have finally succeeded! Animal Place, one of the oldest and largest animal sanctuaries in the nation, now has a beautiful, life-saving, game-changing King Pigeon aviary on site at their Rescue Ranch in Vacaville and they are engaging their expertise and resources to generate adoptions for rescued King Pigeons- survivors of the squab industry, abadonment and overfull shelters.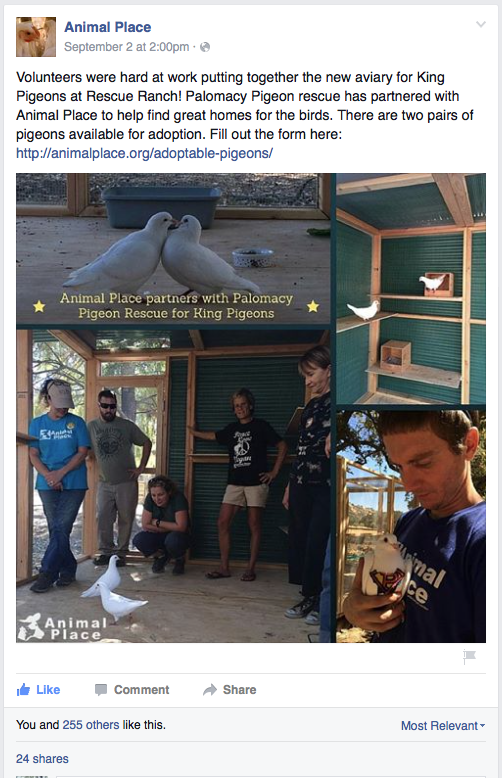 On Saturday August 22nd, our builders Josette & Luis and volunteers, Ellie, Helen, Diana, Joe & myself, gathered at Animal Place's Rescue Ranch in Vacaville to assemble the
pre-built aviary panels
into a gorgeous, safe and very comfortable foster home for rescued King Pigeons.
It was an amazing day. The weather was mild and the panels, so beautifully built, went together with ease. (Luis & Josette had done the hardest part the day before when they dug out and installed the base.)
Throughout the day, the construction was carefully overseen by the patiently waiting pigeons. The aviary is 16′ long by 8′ wide and 7′ feet tall. It is designed to comfortably house 16 rescued King Pigeons but for now, Animal Place is starting with four to get the feel for this new effort.
It was really very exciting to introduce the first lucky pigeons, Boo & Maya and Pat & Snowberry, to their beautiful new (foster) home! They were more than ready to move in and, being pigeons, they of course made themselves comfortable straight away.
Jan, Animal Place's Rescue Ranch Manager, says "The gang is doing great – and seem very happy in their new home" and Jacinda, Animal Place's Adoption Coordinator, is already working to develop adopters for these beautiful birds.
YAY!!!! Look at this amazing, life-saving & game-changing aviary YOU helped to create! THANK YOU!!! Thank you to Animal Place for partnering with us to help raise awareness about the plight and potential of these beautiful pigeons! Thank you to our donors for investing in this life-saving aviary! Thank you to our builders and volunteers for creating such an important new aviary. I have a feeling there will be many more. Thank you all! Your support for this very special effort means more than I can say.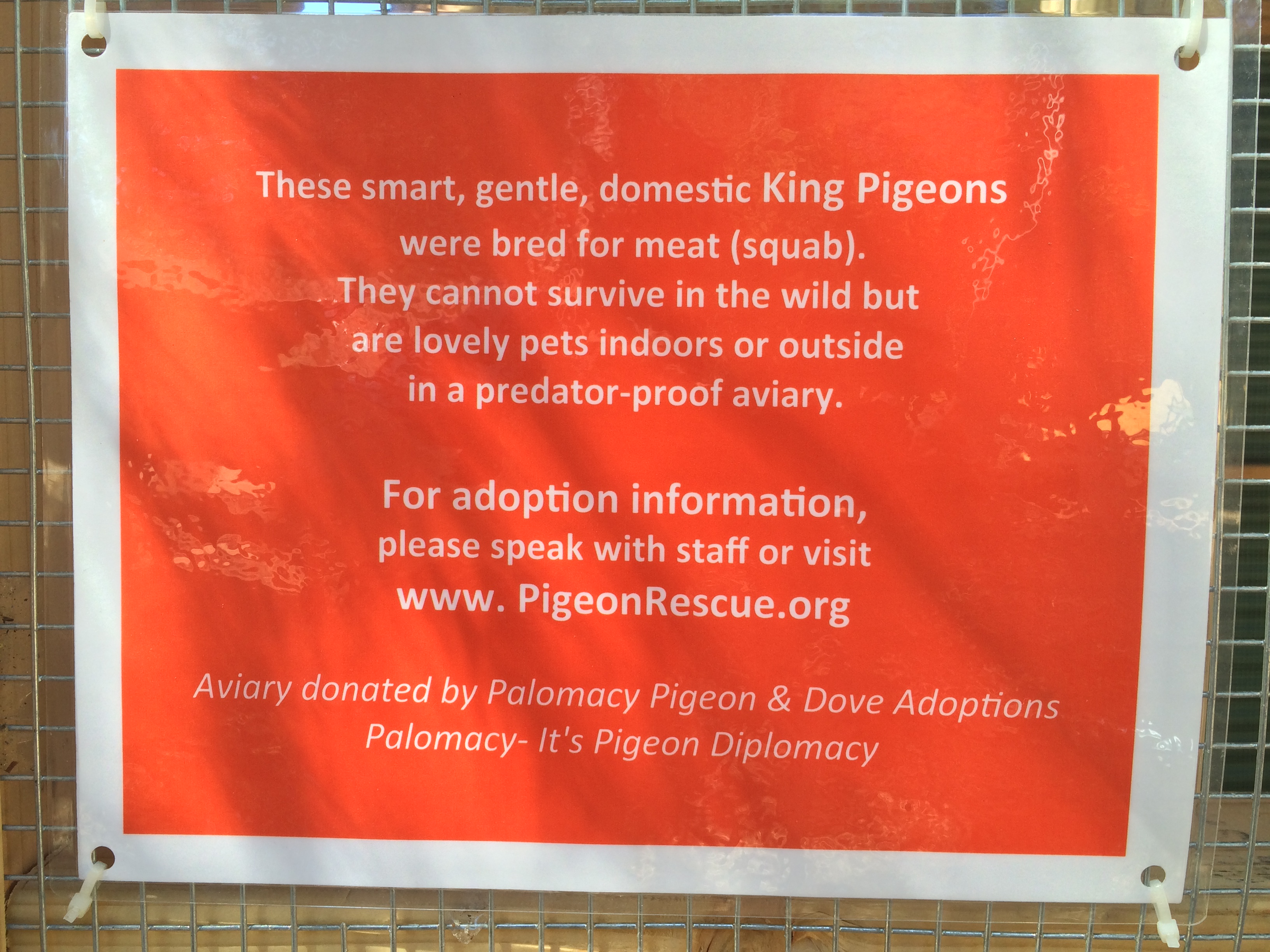 October 12, 2015 UPDATE:
I am thrilled to announce that, thanks to the efforts of Animal Place, Boo & Maya and Pat & Snowberry are now adopted and HOME!