When you next see a pigeon foraging for crumbs on the sidewalk, please know that most likely you are seeing another pigeon's beloved, another pigeon's Shimmy.
Shimmy & Dallas were two big, scruffy rescued meat pigeons who loved each other deeply. That's not unusual. Mated pigeons have incredibly strong, emotional relationships. When Shimmy's health began to decline (he had congestive heart failure), I brought them in from my foster aviary to my special needs bird room and was privileged to see every day how devoted they were. If love was a tonic, Shimmy would have been cured. Dallas did everything he could to comfort his beloved Shimmy up to his death and beyond.
At the Start
In March of 2014, someone brought their pet King/Carneau cross pigeon to the San Francisco Animal Care & Control shelter and surrendered him. They didn't mention his name. Shelter staff named him Shimmy Shimmy CoCo Pop because, like many King pigeons, he was prone to quivering when nervous. Shimmy, big and strong as he was, quivered a lot. He was at the shelter for nine weeks when I finally couldn't stand it anymore and brought him home to add to our already too big case load. I fostered him in my backyard aviary.
Within days of Shimmy getting out of the shelter, Dallas was brought in. He was lucky enough to survive not only being sold for meat by a live poultry market in Chinatown but also being inhumanely "released" to Washington Square Park in the North Beach neighborhood of San Francisco. He was another King/Careau cross.
While we were full up, SFACC was even fuller and I was asked to take some pigeons in so as to save them from being killed for space and on 6/19/14, we took Dallas, Carlita, and sick babies Guru & Ash into our life-saving foster care.
Dallas was a high strung, nervous and aggressive pigeon. I call him a Type A pigeon. He didn't enjoy people at all and for the most part, I left him home in the aviary rather than put him through the discomfort of outreach events.
Shimmy was a big, gentle bird with a sweet though shy temperament. When I brought him to outreach and humane education events, he always won the hearts of those who met him.
Pigeon Love
Despite having their having such different temperaments and the same gender, Shimmy and Dallas made a quick connection. In my aviary full of already married pigeons and lonesome bachelors, they decided to become a couple and by 7/28 were nesting together as a mated pair and sitting on the fake eggs that I provided. (Married pigeons love to nest and sit on eggs and so we provide fakes to pigeons who can't have or keep their own eggs [so as to prevent hatching of babies]. Pigeons love having eggs to fuss over and sit on. (See Pigeon Family Values & download Hatch Prevention for more about fake eggs.)
Dallas and Shimmy were both King/Carneau crosses and both had heterochromia- different color eyes. Their left eyes were gold, their right eyes dark brown. Of the 700 pigeons and doves that we have rescued over the past eight years, most have had or sought opposite-sex mates. We have taken in a few same-sex couples. Billie and Alejandra came in as a mated pair of hens but they split up as soon as the bachelors in the foster flock started courting them, eventually marrying George & Sparks respectively. Big giant King pigeon Lola and his tiny Fantail pigeon Luigi came to us as a mated, same-sex couple and they stayed together, very much in love until Lola's death. Lady pigeons Angel and Freddie met and married in our foster care. When potential adopters ask about keeping a pair of same sex pigeons as pets, I tell them that if they are both female, they will most likely bond and eventually become a mated couple. If they are both males, we have seen them sometimes bond but we have also seen some remain persistent rivals over long periods of time, never marrying.
Pigeon marriages are very complex and are much more of an emotional relationship than just a sexual coupling. (See Love Is Strong and Brandon Keim's What Pigeons Teach Us About Love.) We've had adult, sexually mature pigeons remain single (and celibate) for months in a aviary together and then, on their own personal timeline, come together and marry as Willow & Blue did and we've had one pigeon, Louie, who stayed resolutely single, despite being courted, for her entire eight years with us. There was little Bean, single, who did everything like a male pigeon until one day, upon being introduced to Blanco, immediately fell in love at first sight and they became inseparable. I thought they were my gay pigeons until one day, Bean finally laid an egg and proved herself undeniably female.
I've seen the strength of pigeons' love as they stay with a sick or dying mate. Watching strong and healthy Santino slow down to be so gentle and patient with his beloved Charlie when she was frail and weak through her long illness was inspiring. I've seen pigeons stay committed to their family through a mate's absence. When Country's mate Tank was hospitalized at the vet for nine days, she had no way to know if he would ever come home. Despite the hardship (and the flirtations from bachelors), she stayed on their nest and cared for their (fake) eggs by herself, 24/7, with only the briefest occasional break to stretch and poop. I was deeply moved by their quiet but clearly heartfelt reunion when Tank finally did come home. A year later, when Tank was suffering from untreatable cancer, I brought Country to the vet with us and she watched as he was sedated and then euthanized. Once back in the aviary, I was surprised to see that she spent a lot more time out of her nest box and hanging out with the flock. I realized in retrospect that she had been spending all her time in the nest box with Tank, comforting him through the illness I hadn't yet recognized he had.
Then when Country, remarried to Frances, was herself suffering from cancer and needed to be euthanized, Frances accompanied her and was there with her to the end. If a married pigeon dies away from his mate, I always recommend that they have some time with the body so that they can know what has happened and begin to move on rather than wonder and wait. I have no doubt that they understand death. I have seen that they do.
Dallas & Shimmy were happy together fostered in my aviary for nearly two years. Dallas would get so frantic if Shimmy wasn't there, I pretty much retired Shimmy from his outreach work, The one time I took both Dallas and Shimmy to an adoption event, Dallas threw a fit if he couldn't see Shimmy and so we had to work with them in tandem so that Shimmy was always within sight. Dallas was an angry bird to everybody except for his beloved Shimmy. Loving Shimmy calmed Dallas. Loving Shimmy brought out the best in him.
Illness
Then, in late November 2015, I saw that Shimmy wasn't feeling great. His energy grew low, he had a cough and he was losing weight.
The vets at Medical Center for Birds had never heard such terrible arrythmia as Shimmy had. They were surprised he was alive and functioning at all. Diagnostics revealed cardiomegaly- an enlarged and weakened heart and palliative care our only option.
Shimmy & Dallas moved out of the aviary and into my special needs bird room where life would be less demanding for Shimmy. He did OK at first but then was hospitalized for a few days in mid-December to get fluid retention issues under control. Dallas stayed there with him.
Though stoic in demeanor, pigeons are highly emotional and we have found that they greatly benefit from the comfort they receive from one another (or a loving person- see River's story). Seeing how affected pigeon well-being is by love and comforting reminds me of the "science of love" experiments conducted by Harry Harlow in the 1950s on baby monkeys deprived of their mothers' care. Love is powerful and important and its benefits are easy to see in pigeons.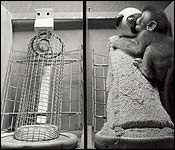 Dallas & Shimmy's Long Goodbye
Shimmy was prescribed two diuretics and came home to fospice (foster hospice) in my bird room with Dallas ever present. It was extraordinary to watch Dallas, the pigeon I knew to be so aggressive, impatient, hostile, be so infinitely gentle and patient and loving with Shimmy. Shimmy didn't feel well and he didn't have the energy to be the active and responsive mate Dallas used to have. Shimmy napped mostly, snuggled by Dallas. Shimmy did eat and each evening he came out of their cage for slow walkabouts and to stretch his wings in the bird room. I watched closely for signs of suffering, for a signal that I should have him euthanized, but Shimmy did well. And he got so much love and affection from Dallas!
But in late January, Shimmy lost weight and grew weaker. Checking in with him on 1/30, I felt like he would need to be euthanized soon. I dreaded it for him and for Dallas. Shimmy was living for them both.
And then, very late the next night, Shimmy died in his nest box. He looked very peaceful. I was glad that he got to die at home. And I was heartbroken for Dallas. Shimmy was everything to him. Shimmy was the only thing in the whole world that Dallas loved.
Dallas spent the whole day bringing pine needles to Shimmy's body in their nest box. He wasn't trying to bury him. He was trying to love him, to please him. To stay connected. I was grateful that he had found a peaceful way to grieve. I didn't know what I was going to do with Dallas without Shimmy. Shimmy was his focus and kept him calm. Without Shimmy, Dallas was aggressive, too aggressive to stay in the special needs bird room and even too aggressive for my aviary.
I had to take Shimmy's body away eventually and I decided to do it that night so that Dallas would have the comfort of darkness and hopefully sleep to help him through this next terrible stage, the separation. Even knowing pigeons the way that I do, through all this rescue work with so many birds over the past eight years, what happened when I took Shimmy's body really surprised me. And touched me deeply.
It was late for pigeons- about 9 PM and Dallas was standing there in his cage in front of Shimmy's body. I reached in and took Shimmy out and I stood there for a minute with him in my outstretched hands. Dallas' eyes followed Shimmy's body and then he cocked his head and looked me square in the eyes. He looked me in the eyes so directly, so openly, so fully. He gave me a chill with the intensity of his look. Then he glanced back at Shimmy before once again looking me in the eyes. His second look was just as powerful as the first and I stood there in awe of him. That moment we shared was one of the most powerful I've ever had. I don't know what Dallas was thinking. I don't know what Dallas' looking so directly into my eyes meant but it felt like understanding. It felt like recognition. We knew together that Shimmy was gone forever. I turned out the lights and left Dallas alone to his grief, my heart breaking for him.
Life After Shimmy
I woke up very worried about what Dallas was going to be like alone. He seemed steady and full of energy. I brought him in my office to hang out with me thinking the novelty might help distract him and that my company was better than none. I was still trying to figure out a long-term plan for Dallas without Shimmy.
Pigeons are very social and emotional and tolerant but when they have to be confined in aviaries or rooms as our rescued domestic pigeons do, (birds that are unreleasable, created by artifical selection and bred to be exploited but with no place in the natural world) they have to be matched up in ways that work for all involved and I couldn't have Dallas inside beating up old man Jacob and arthritic Freddie nor outside in the aviary attacking Fleetwood, Mick, Walter, et al. I call this fitting together of pigeons 'Pigeon Tetris'. We have to find combinations of birds, enclosures and people that work for all the birds' various needs.
And I had a stroke of Pigeon Tetris genius when I thought of Noodles. Noodles was a single bird, very enigmatic and aloof. She had been thought to be a hen and seemed to pair up with a widowed pigeon but not really. She didn't reciprocate any of his affection. She was so distant that we began to believe she was male and so we introduced another lady pigeon to the widower and Noodles was transferred to my aviary.
Noodles was a loner and had shown no interest in any of the birds in my aviary. My bachelor birds ignored her making me even more convinced that she must be male. The only connection I'd seen her make was when she developed an almost instant rapport with outreach volunteer Natalie at the Bay Area Pet Expo. She was tense and uncomfortable working as an ambassador until Natalie held her and then she immediately relaxed and did a great job all day (returning to her solitary ways back in the aviary when the event was over).
In any case, it occured to me that perhaps aloof and androgynous Noodles might somehow hit it off with Dallas.
And it worked. It was a little bit of a miracle. She had ignored all the birds outside and she ignored big Freckles when he rushed to greet her in the bird room but she was drawn to Dallas! And he to her.
They became friends first. No romance, just spending time close to one another. Dallas was focused and peaceful and patient, content to be near Noodles. And Noodles was definitely drawn to him. They weren't sexual but they were intimate. Having Noodles to befriend made all the difference for Dallas. He was again his best self. With Noodles, he was attentive, calm. I'll always be grateful to Noodles for helping Dallas (and me) through his grief.
Their bond continued to develop slowly. They didn't mate (and become officially pigeon-married) for 10 days.
We are all so incredibly happy for Dallas! He was so devoted and loyal to Shimmy, so faithful till the very end and beyond. And Noodles and Dallas are perfect for each other. They are now being fostered in our aviary at Ploughshares Nursery in Alameda.
Noodles and Dallas are doing great. Their love is strong. When you next see a pigeon foraging for crumbs on the sidewalk, please know that most likely you are seeing another pigeon's beloved, another pigeon's Shimmy.
Dallas & Noodles are available for adoption.
Donate to support our rescue work.
Thank you for your support. Thank you for being a friend to pigeons.