Guest Post by Amanda Scheper
Amanda Scheper is Palomacy's Program Services Specialist at Community Initiatives as well as a pigeon lover. She works in their office in downtown San Francisco where they serve more than 100 charitable causes, including Palomacy Pigeon & Dove Adoptions, and "sponsor initiatives for the benefit of communities in service to social change". Palomacy uses their address for mail and on March 16th, 2016, that led to an unexpected visit.
Community Initiatives recently had an unexpected and unusual visitor stop by the office. A pigeon!
About a year ago, a baby pigeon was found and raised by a woman named Leonor. The little pigeon quickly became part of Leonor's family. Unfortunately, Leonor was recently told by her landlord that she would not be allowed to keep her pigeon. It's unfortunate that people don't understand that pigeons are loving, clean and quiet pets; they are perfect little companions, especially in San Francisco's smaller homes.  Given how close Leonor and the pigeon had become, this was devastating news. This led Leonor to researching Palomacy and then bringing her pigeon to Community Initiatives to surrender her. Leonor didn't realize that Palomacy doesn't have a shelter, that all their rescue work is done in the homes and backyard aviaries of their foster care providers.
So, Leonor's little pigeon was brought to our Community Initiatives office in the hopes that Palomacy could care for her and help her find a forever home. My colleague Andrea and I had the pleasure to meet with Leonor to understand her situation. The little pigeon stood on Leonor's shoulder and listened as she shared many sweet stories such as how every day when Leonor came home from work, the little pigeon would do a 'welcome home' dance at the front door for her! It was immediately clear to me that having to choose between her home and her beloved pigeon was extremely painful for Leonor. In a city like San Francisco, tenants don't have many options and no one should have to choose between their loved ones and their home. As we continued to talk, the little pigeon decided she wanted to take a self-guided tour of the office. She flew off to our finance department, startling some of our team while also re-filing some of their paperwork.
Once the little pigeon was done flying around, hopping on desks and heads, Leonor and the little pigeon said their goodbyes to each other. Although already at capacity, Palomacy had responded immediately and we arranged that I would bring the surrendered pigeon home and Elizabeth would pick her up that same evening.
The sweet little bird was named Leonor in honor of her beloved person. After a few days of helping Elizabeth in her office, Leonor the pigeon was transferred to a loving foster-to-potentially-adopt family.
About a month after parting from Leonor, little Leonor has settled into life with her foster family, Leda and Derrick. Understanding how hard it is to lose a little feathered friend, Palomacy and Leda coordinated a reunion visit at Community Initiatives for Leonor the person to visit with Leonor the pigeon and Leda her foster volunteer. The visit was so sweet and wonderful! Palomacy is an amazing organization. Not only do they consider the needs of birds, but they also are cognizant of the needs of those that love the birds.
Who knew our Pine Street office would be a safe haven for domestic pigeons? It may have been an unexpected interaction, but we sure had fun supporting Palomacy in this unexpected way. Leonor the pigeon is now in a safe place and is lucky to have so many people who love her dearly.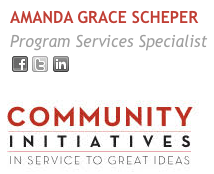 Post script by Leonor's foster volunteer Leda Hosier: Leonor is such a joy. She absolutely LOVES company and will follow you from room to room. She's got a lot of spunk in her and she's been very entertaining to have around. She's a great little bird!
UPDATE: 5/15/16 It's official! Leda & Derrick have adopted Leonor. She's been renamed Olive & she is home!