Guest Post by Chris Arvanitis
On a warm spring afternoon, a little pigeon suddenly appeared on the edge of the roof above our deck.  He was strutting and cooing as he peered down at us.  We have many wild doves in our neighborhood, but have never seen a pigeon around here before.  It was not long before he came down off the roof and was walking along the deck railing, coming closer and closer to us.  We were obviously intrigued by this curious little guy.  He had no bands on his legs and appeared to be a wild bird.  We did a quick internet search as we knew nothing about caring for pigeons. We provided him some water in case he was thirsty.  We had never seen a pigeon be so friendly with people before and came to the conclusion he was likely raised by humans, lost and tired.  He continued to hang out on our deck for another hour or so and then disappeared for the night.  We figured he had left, continued on his way and found a place to roost for the night.  Early the next morning however, he was back on the deck, strutting and cooing again, now wanting to come in the house with us.  We had to head off to work that morning so we left him some food and water on the deck, assuming that he may move on that day.  That afternoon when we got back, he was still there.  At this point we figured he has probably adopted us for his new home.  We still were ignorant about him surviving in the wild as he seemed to do well for himself.  We built him a little shelter on our deck (which we later determined would be very unsafe for him) and he took right to it, somehow knowing it was made just for him.  He slept in there every night, still being able to fly free wherever and whenever he wanted.  We started to become quite attached to him; he was very affectionate, especially to my wife, and had a special personality.  We loved having him around as we never would have thought we would be friends with a pigeon.  He was always there each night, sometimes waiting for us when we arrived home, sometimes later just before sunset, he would appear.  Soon he moved into my garage and workshop and he could come and go through an opening we provided for him.  We worried about his safety as we had seen him pursued by hawks in the past, but he seemed to be pretty savvy.
Then, one night, he did not return.  We were worried, but he had spent the night away from home in the past.  Six days went by, still, he had not returned.  We were devastated, fearing the worst.  Thinking we would never see him again, I went out on the deck after dark hoping to see him as I had done for the past week, and there he was!  Sitting in the little house we had built him when he first came to us.  He was exhausted, emaciated, and covered in this sticky goo all over with pine needles and loose feathers stuck on him.  We secured him in the garage; he drank a lot of water and ate, went to sleep and was very quiet all night.  The next day, he was livelier, but did not know what this goo was until we tried to clean it.  At first we thought it was pine tree sap, but it turned out to be from a glue trap!  We felt so guilty and awful about what he must have been going through for six nights, likely only yards away from our home.  We don't know if someone freed him, or he managed to get loose himself, but he could barely fly with all the goo, one wing stuck to his body.  Somehow he managed to survive with no water and food, likely because we overfed him since he first arrived. After getting free of the glue trap, barely being able to fly, he somehow made it home, to a place he must have known he would be helped.  It took numerous mineral oil cleanings and baths in Dawn to remove the glue trap goo. I wish I had known better than to make the mistakes I made when I first encountered Petey, he needed help and was in danger and we should have immediately made him safe. (A lone pigeon, unconnected to a wild flock, is in trouble.)
After a week of rehab, he was feeling back to his old happy self. We kept him in our garage from then on fearing for his safety, but had a tremendous amount of guilt as he hated to be left alone. We would bring him in the house from time to time and let him fly free outside only when we were home.  Looking for help, that is when I found one of the most special people I have ever encountered, Elizabeth at Palomacy. I sent her a message about our new friend, now named Peteybyrd. She was so helpful in providing advice and guidance regarding Peteybyrd.  We immediately brought Petey into our home permanently, provided him his own room, my office.  In talking with Elizabeth, we decided in order to provide Petey the safest and happiest home we could, we needed to adopt a lady pidge for him.  She put us in touch with a local rescuer in our area, Terry Whatley, another angel for these amazing creatures. A couple of weeks later we purchased a large double flight cage and adopted Penny. At first it was a little difficult, Petey wanted nothing to do with her, still being very attached to my wife. With the incredible guidance and encouragement of Elizabeth and Terry, we were able to have faith that Petey and Penny would hit it off. After a long weekend away, we came home to find them in love. Our hearts melted to see them together.
Even after finding our Petey a loving and devoted mate, we still had feelings of guilt that they were confined to the double flight cage and the small home office. We decided to go all out. A large outdoor aviary was soon to come, all due to the inspiration of a little bird that has had a profound effect on our lives. At the time, we were in the process of building a patio and new driveway to our new garage and workshop, so we simply modified our plans slightly, adding a concrete slab for the aviary. I designed the slab to be integral with our patio and driveway. It has a raised curb, sloped floor and built-in drains for easy cleaning.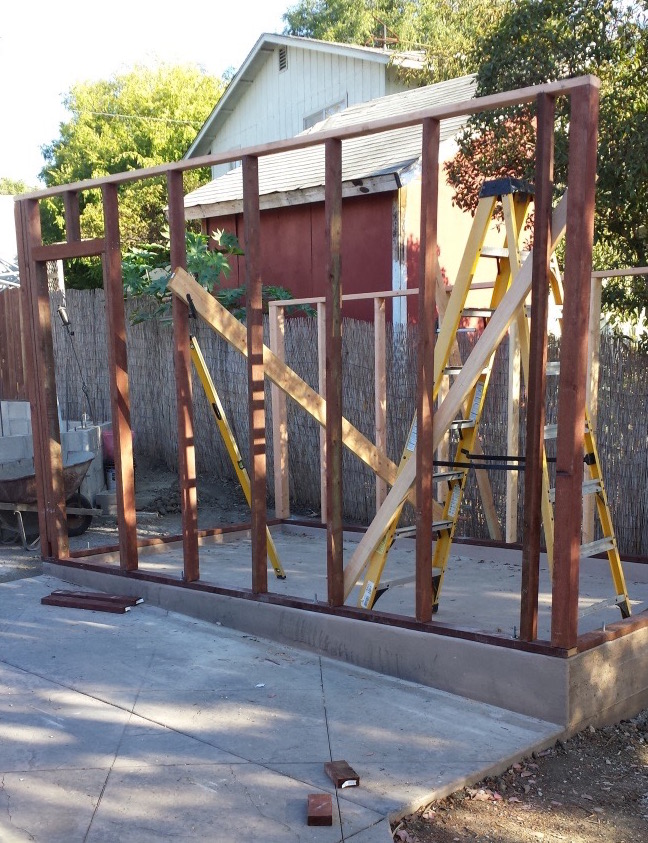 It is sized 14 feet long by 8 feet wide and 9 feet tall at the highest point. We built it using pressure treated lumber for framing, bolted to the concrete and all galvanized hardware for durability. The back side is solid with exterior siding and sheltered corners for the nest boxes. The corners provide shear bracing for stability. We used ½ inch galvanized hardware wire mesh attached with galvanized staples. We then covered all framing and mesh seams with 1×3 cedar trim, all stained a dark brown. The roof is solid, made from 5/8 plywood, sloped 15 deg and covered with 40 year roofing shingles, leftover from my garage project. The door is attached with three spring loaded heavy duty hinges so the door can never be accidentally left open. We used two slide bolts, one bottom and one top with locks to keep predators out, although with our two large dogs in our yard, not many animals dare to venture in. Inside there is a built-in work bench for storage of food bins and supplies however the birds prefer to use it as a place to hang out and sleep. There are numerous flat perches all around the interior, a large natural branch that varies from 1-2 inches and a hanging flat perch as Petey really liked sitting on the ceiling fan blades in the garage and this perch kind of simulates that. A couple of pidgie baths finished it off.
We also installed a network video camera so we can check in on them from time to time on the internet when we are not home, a nice amenity for peace of mind. It is very easy to clean, scrape flat surfaces, sweep/vacuum, scrub and rinse all in about 45 min. All in all, we spent under $750.00 to build this aviary. Well worth the expense to provide a safe and happy home for these guys.
The moment of truth, the first day in the aviary, they loved it! They spent all day exploring, hanging out on their new perches, able to have a view of the outdoors and enjoy the daily sunlight.  We actually just rolled the double flight cage right into the aviary as they seemed familiar and comfortable with it.
But the story doesn't end there…We needed to adopt more pidgies in need of a home. So we have adopted two more pairs for now, for a total of six. It was a little contentious at first with Petey being a bit upset at these "intruders", but it settled down and now we have a peaceful, comfortable, safe and happy home for all these little guys who love to play and flirt with each other. Ruffles, Little Red, Flannigan, Oscar, Penny and Petey!  All because one spring day, we were visited by a sweet little pidge named Peteybyrd.  This is Petey's story and the house that Petey built!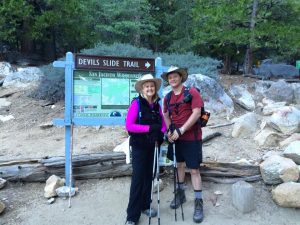 Chris and Bonnie Arvanitis have lived in Vista, California, coastal north San Diego County, for 40 years.  Bonnie works as an executive secretary at a local hospital and Chris is an administrator of a condominium retirement community.  They have one daughter, Chrissy and two rescue dogs named Buddy and Bella, both shepherds.  They have always had rescue animals all their life, dedicated to providing a loving home to less fortunate animals. Chris enjoys photography, woodworking and hiking. Bonnie enjoys spending time with her dogs, and now her pigeon Petey, the beach and traveling.