Miu was one of more than 40 birds displaced when their person, a San Jose resident, died in November. There were 20 finches, 10 budgies, lovebirds, rosellas, doves and two pigeons. (He had bred and sold birds for many years. In the past, he had hundreds.) The deceased's family reached out to Mickaboo Companion Bird Rescue (the parrot rescue with whom we partnered for our first four years as MickaCoo Pigeon & Dove Rescue) to take the birds out of his backyard aviaries and into their rescue (except for the two pigeons which they just let out of the aviary). One of the pigeons was promptly attacked by their dog. The other eventually went back into an empty aviary. Michelle Yesney, Mickaboo CEO and one of many Mickaboo volunteers who worked on this big rescue, closed her in to keep her safe and contacted us.
We are beyond full… stretched to the breaking point caring for 130 birds in 27 volunteer foster homes/aviaries (and coaching, referring, counseling on behalf of many more) but every day, we have to figure out how to help the birds that no one else will. And so we stretched some more. I reached out to Faye, the volunteer who coordinates our Lobby Pigeons team at the Humane Society of Silicon Valley in Milpitas, who could transport and to Clare, our Leadership Team Chair who could short-term foster to put together a rescue team for this pigeon in need.
As soon as Faye arrived on the property and spoke to Michelle, the lonesome pigeon, from a aviary far down an empty row of structures and out of sight, began cooing, calling for help.
Faye took her home to stay overnight while she waited to go to Clare's the following day. It was a big improvement in her situation!
Pigeons will vocalize to communicate with people just as they would call to one another. She's saying, come here. Be with me. Stay with me.
This is the behavior of a very tame, bi-cultural (pigeon/human) bird. She's preening Faye's hand with affection, the same way she would preen a mate.
The next day, the little Homer went to Clare's house. She took to wearing pigeon pants with ease. And just as she had quickly won Faye's heart, she won Clare and Bob's too.
In the meantime, I posted about the little lonesome Homer on our Facebook page in search of a foster or forever home…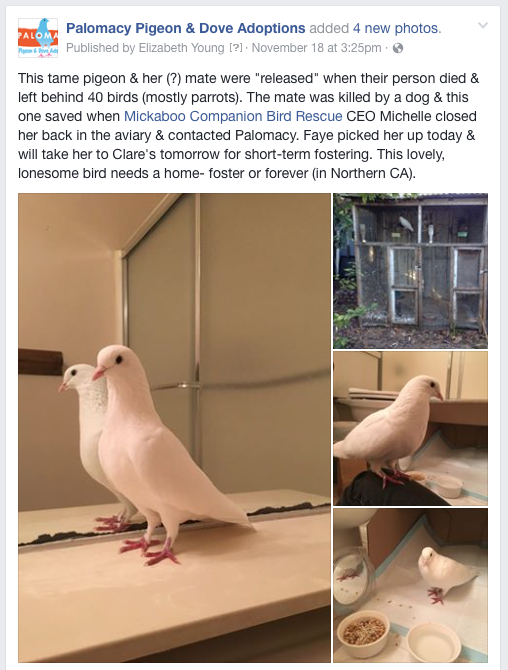 And Cynthia, a bird lover and Palomacy supporter who's been thinking about fostering a pet pigeon for a long time was moved to complete our foster application. We talked through the requirements and what goes into caring for a pet pigeon and Cynthia set about getting ready. She suggested the name Miu which means "beautiful feather" and "kind-hearted" and so Miu she is. The following week, on November 27th, Cynthia went to Cupertino to pick up Miu. And they have been having a love fest ever since.
Last night I asked Cynthia for the Miu Report and she writes,
The Miu Report is looking bright! She seems to have settled in very quickly and already claimed a few favorite spots around the room. The doves have left her alone, although they once flew over to a table near her food and I saw her give a warning peck in their general direction. She's done this less with me, but she often flies over to Mako to land on his head or back, and it's the cutest thing. We've had several friends meet her, and they all adore her. She's something of a minor celebrity at the moment, and several people have asked to visit us so they can meet her. It's finals week for us, so we've been spending a lot of time at home but we're usually focused on studying, and she'll sometimes walk over our keyboards to get our attention. We would love to adopt her, because fostering is going well (and Mako and I are very attached – we consider her part of the family already). She's made herself right at home and our daily routine involves so much time with her that it's hard to believe she came into our lives less than a month ago. I hope she gets to stay for a long, long time.
So, with the help of a whole team of dedicated volunteers and supporters, Miu has been saved. She is safe, loved. She is home. Thank you for helping rescues like Palomacy (and Mickaboo) to help birds like Miu. We couldn't do this without you!
See more Miu! Miu the Emotional Support Pigeon