Who we are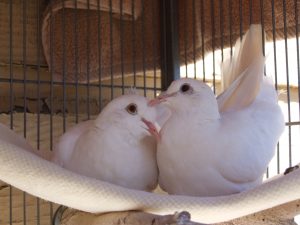 Palomacy (a Community Initiatives project) is a volunteer-powered, donation-funded rescue for domestic (unreleasable) pigeons & doves in the San Francisco Bay Area. Palomacy, formerly called MickaCoo Pigeon & Dove Rescue, provides avian vet treatment, foster care and adoption services. Started in 2007 by Elizabeth Young, Palomacy volunteers have saved the lives of more than 600 birds that otherwise would have been killed in shelters.
The best way to reach Palomacy is via Email
AdoptKings@gmail.com
Mail (only)
354 Pine Street, Suite 700, San Francisco, CA 94104
We are fiscally sponsored by Community Initiatives & our EIN is 94-3255070
If you have a bird emergency of any kind, the best number to call is 415-456-SAVE (7283). If WildCare can't help you, they will refer you to someone who can and they answer calls 24/7 every day of the year.
How Palomacy (formerly MickaCoo) Began
Heart & Soul: The Palomacy Pigeon & Dove Foster Network