Thanks to a lot of help from a lot of supporters, we continue to make remarkable strides on behalf of pigeon rescue! On Saturday December 19th, we finished building and introduced the first lucky pigeons into our brand new foster aviary located on a wonderful site generously provided by Ploughshares Nursery of Alameda. It is 16′ x 8′ x 8′ and, when full, will house 16 foster pigeons safely and comfortably, as they wait to be adopted into their forever home.
The Road to Ploughshares
One day in November 2014, Alameda resident Debbie found a domestic pigeon huddled weak and helpless in some bushes. Debbie was new to birds but knew this one needed help. She took her home and reached out to Palomacy. We were too full to take the pigeon, now called Ajax, into our care, but we coached Debbie who fostered her in fine style. Debbie purchased a beautiful big cage for Ajax and then took in a second foster pigeon, the handsome bachelor Theo from SFACC, to be a mate for Ajax. Along the way, Debbie, seeing how many birds needed help, got an idea. What about building a foster aviary at the beautiful, nonprofit neighborhood nursery? Debbie reached out to the staff at Ploughshares and they were interested!
We did a site visit together, I eventually got the proposal submitted & Ploughshares said, Yes!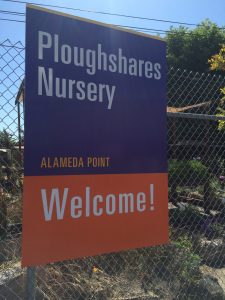 In urgent need for added foster space, we launched our crowdfunding campaign on December 10th with an ambitious plan to raise the funds needed and build the aviary all in nine days! (Thanks to some very generous donors, we had a headstart with half of the money needed already pledged.)
Our volunteer builders scoped out the site and finalized our design on December 11th…
SUCCESS!
Along with the challenge of bringing all the pieces together as quickly as possible, the threat of rainy storms added to the excitement. Thanks to the skills and stamina of our fast builders and some good weather, the base and back wall were installed on Thursday and then other volunteers joined in on Friday to get the majority of the structure done.
Thankfully, our crowdfunding campaign was also successful and when it ended on Friday night, we had achieved 101% of our goal!
Saturday, the day that all week had promised rain, dawned with beautiful blue skies and big fluffy clouds. We had lots of help with all the finishing touches and to welcome our first residents into their brand new foster aviary!
We Still Need You!
While the aviary has been installed, there is still lots more to do! We've got another nest box tower to build and install, real signs and pigeon profiles to make and post, floor finishing to do and daily care volunteers to recruit and train. Pigeons in an aviary are easy to care for but they do need some daily attention. Would you like to join our Alameda Aviary Team and help with the daily care? It's very simple- and only requires about 20 minutes a day. They need fresh food and water, a poop scrape to clean up, a check of all the nests for real eggs (to be traded for fake eggs to prevent breeding). You can spend time watching and interacting with these beautiful birds and helping to socialize and publicize them too. We provide all the supplies and are happy to train you. (No prior bird experience required.) Please contact Elizabeth if you're already a Palomacy volunteer and would like to participate or complete our volunteer application to get signed up.)
We also have a wall that needs a gorgeous, pro-pigeon mural to help tell the Palomacy story! (Please contact Elizabeth if you can help with this very special project!)
We'll be adding more foster pigeons (up to 16 total) and participating in events to promote and publicize these beautiful, adoptable birds!
THANK YOU!
Thank you SO VERY MUCH to all of you for helping to create this amazing, life-saving home for Palomacy foster pigeons! Your generous donations of time, money, skills and resources make the difference between life and death for the birds that we are helping. Extra special thanks to Debbie for all you have done (and are doing) in support of this project and to our wonderful friends at Ploughshares Nursery and the Alameda Point Collaborative.
UPDATE 12/29/15
We had birds waiting for the life-saving shelter of this aviary and, as of 12/29, we are now fostering 14 very lucky pigeons there. The flock includes Whimsy, Dooby, Newark, Big Red, White Lightnin', Charlie Chocolate Thunderpants, Mr. Vivian, Smokey, Max, Batman, Mocha, Delilah, Cookie & Tux. Thank you for helping us to help these amazing birds!