Guest Post by Olena Klingman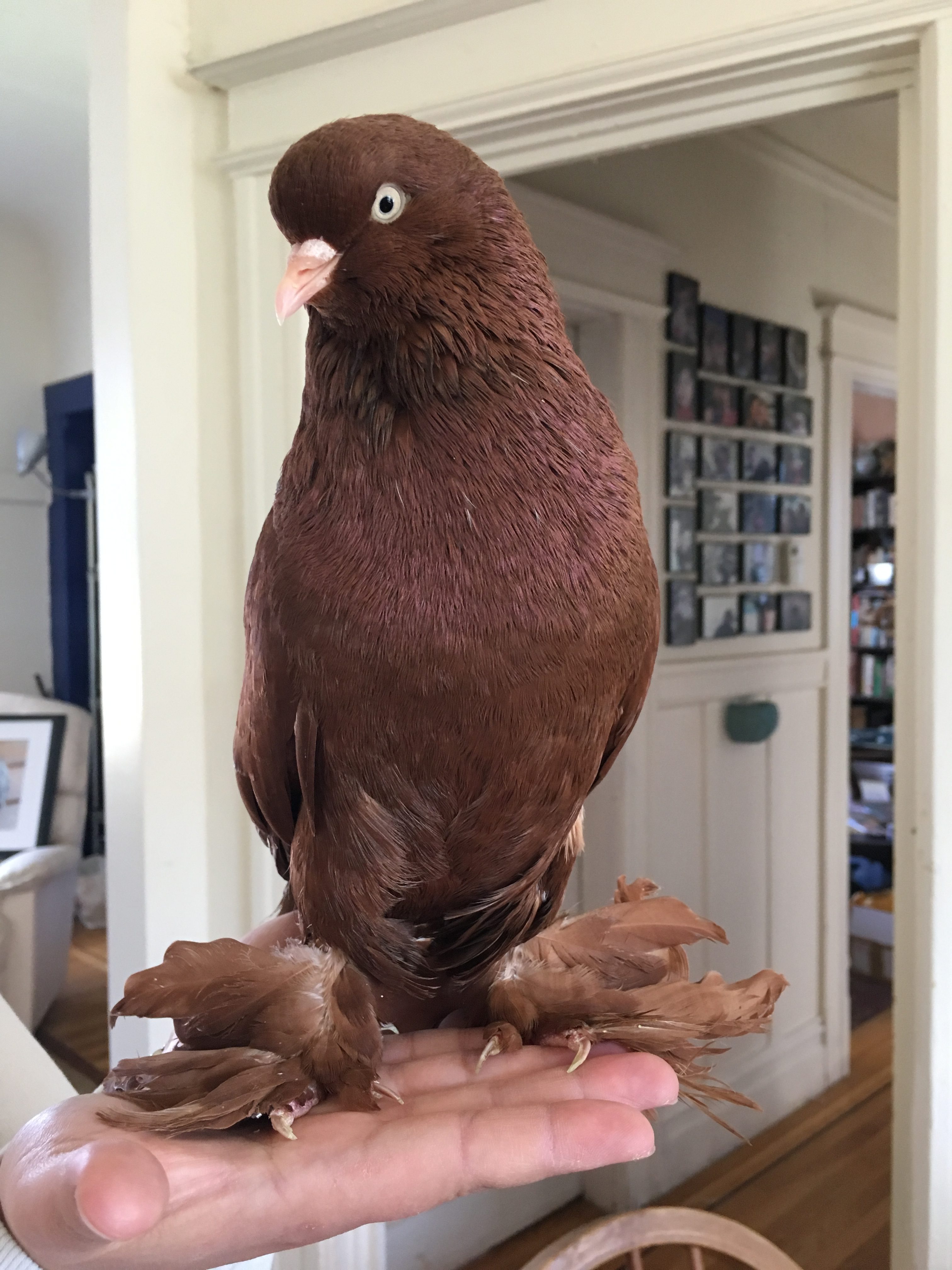 I have always loved birds and I have kept many different kinds of birds throughout my life. Usually I took ones that other people didn't want or needed to re-home. I also helped to rescue wild birds by bringing injured or orphaned birds to the Wildlife Center of Silicon Valley for treatment and rehabilitation. This is almost what happened with Shmuel, a stunning West of England Tumbler domestic pigeon!
My best friend and fellow rescuer Olga found Shmuel at a shopping center parking lot in San Jose. She was shocked that he refused to fly away when she approached. Taking a closer look, she noticed he had clipped wings and beautiful long feathers on his feet and realized this pigeon was special. Still she called me right away for assistance saying she found "a pigeon that can't fly" so my first instinct told me to take him to Wildlife Rescue. Next day we were both enlightened that yes indeed, he is special, he is no ordinary pigeon, he is a pure-breed pet!  Our next step was to try to find the "owner" of this pet. Many Craigslist ads, posters and local shelter notices later, we only found a few questionable individuals and fake "rescues" who wanted to take him but no original owner. Since we know how many animals get abused by being re-homed online, we decided not to give him away and to foster him ourselves. After sometime my friend Olga realized she can not give Shmuel the environment that he needs in her home so she asked me to take over his care completely.
It's been I don't even know how many months, maybe even a year, that I lived with this beautiful and regal bird. I have always wanted a pigeon as a child, and in a way my dreams came true as I was living out the fantasy of having a tame pigeon sit on my hand. My mom decided to name him Shmuel, which means either "name of God" or "God has heard" in Hebrew. My mom and the rest of my family also found so much joy and pleasure in caring for this handsome boy, but it all did come at a price.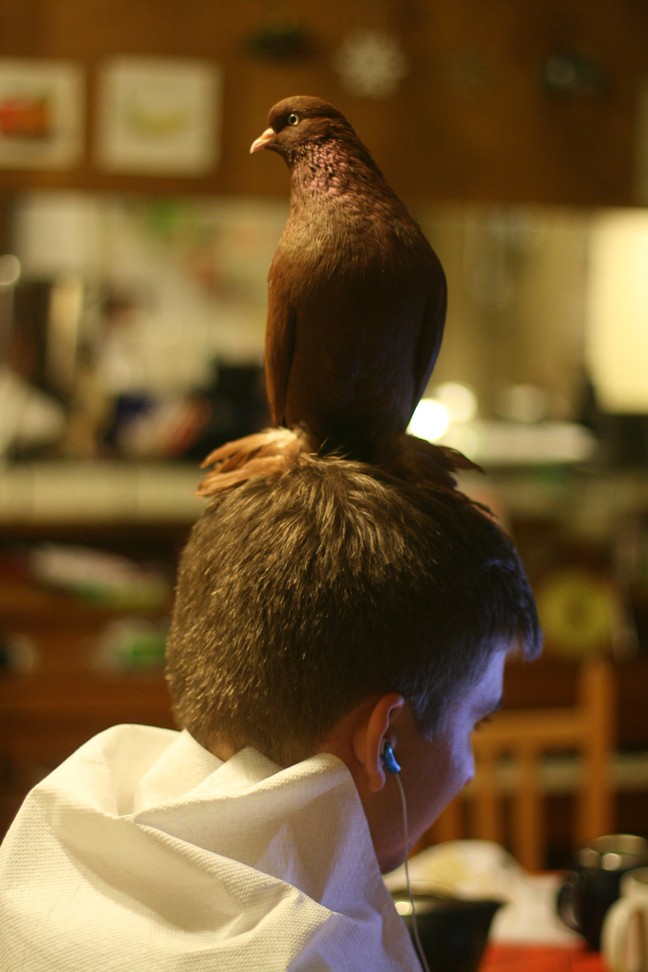 At the time I lived with my parents, brother and his wife in a small town-house and had to jump through hoops to make it work for everyone. I had a small room to myself that I practically had to convert to Shmuels personal flying and soiling space! We barely had a back yard big enough for any recreational usage, let alone an outdoor aviary. So the poor guy had to be cooped up indoors pretty much all the time and only got a chance to fly in my room. He did have a cage large enough for him to get around, spread his wings and nap in – I bought one that was originally intended for Chinchillas, so he really enjoyed all the platforms and ladders. The cage was open almost all the time except for at night, and he loved to go back in and out of it. Amazingly, he also responded to my commands when it was bed-time, I pointed my finger at the cage and said "mistse" which means "your place" in Ukrainian, and he would always respond by flying back inside!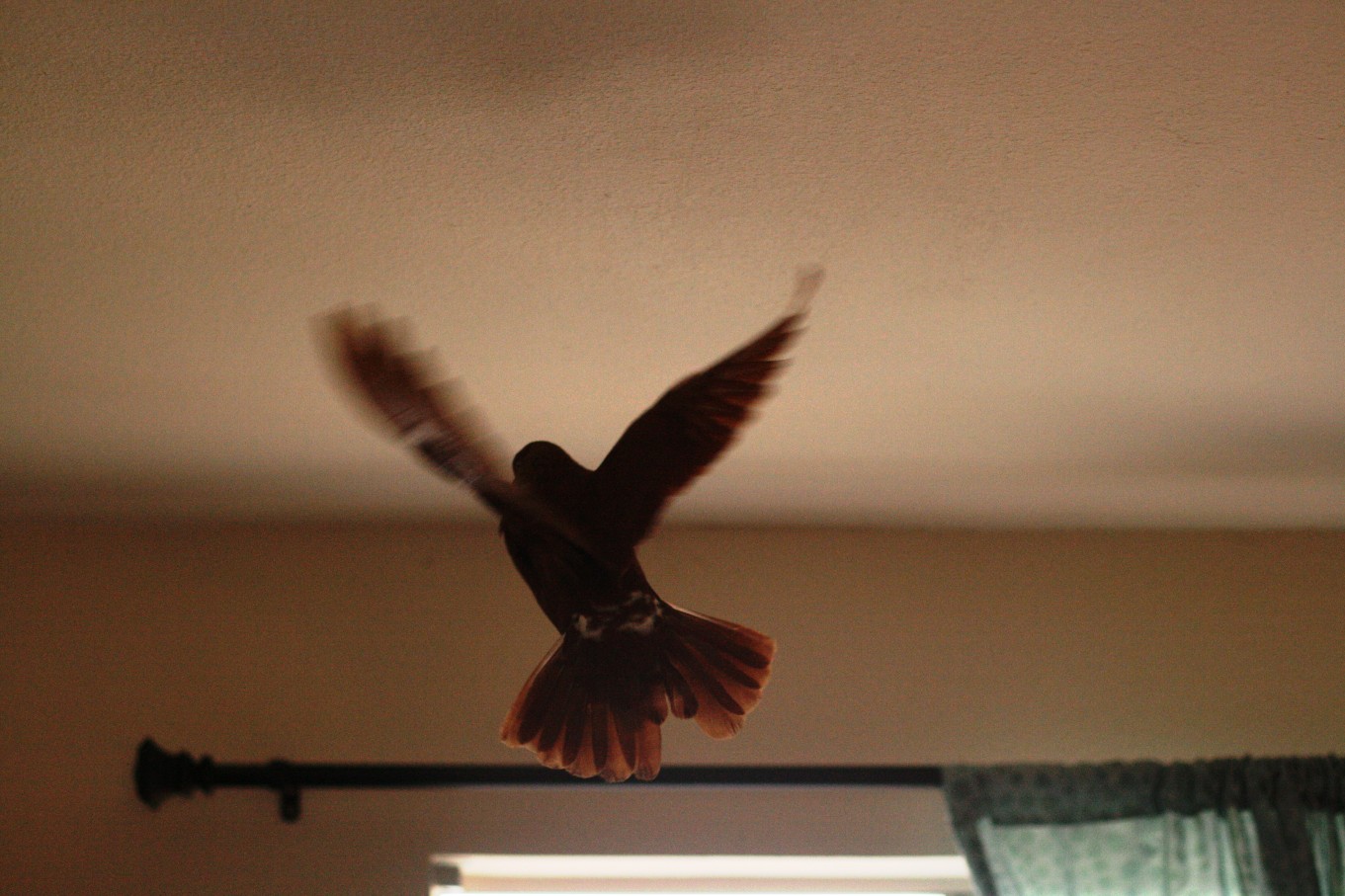 He seemed to be content and living a happy life, but still I felt like he needed more than I could give him. I also felt horrible that he was an only pigeon, he didn't have a mate or a bird friend to play with, and adopting more birds unfortunately was out of the question for me at the time. I tried to entertain him as much as possible by taking him out of the room while he sat on my hand or even on my head! I also tried to stimulate his needs for social interaction by placing his cage next to a large mirror and even challenging him with a toy! He usually loved to fight my hand when I changed his food and water, so I figured I will try a stuffed animal instead if that's what he likes to do, even though I didn't know anything at the time about why he does this behavior. That's another reason why I was afraid to re-home him. Knowing nothing about pigeons, I assumed that he might be aggressive and worried that in a different home he might become a victim of abuse if someone takes his territorial behavior the wrong way. That thought alone scared me and prevented me from moving forward with his placement for adoption.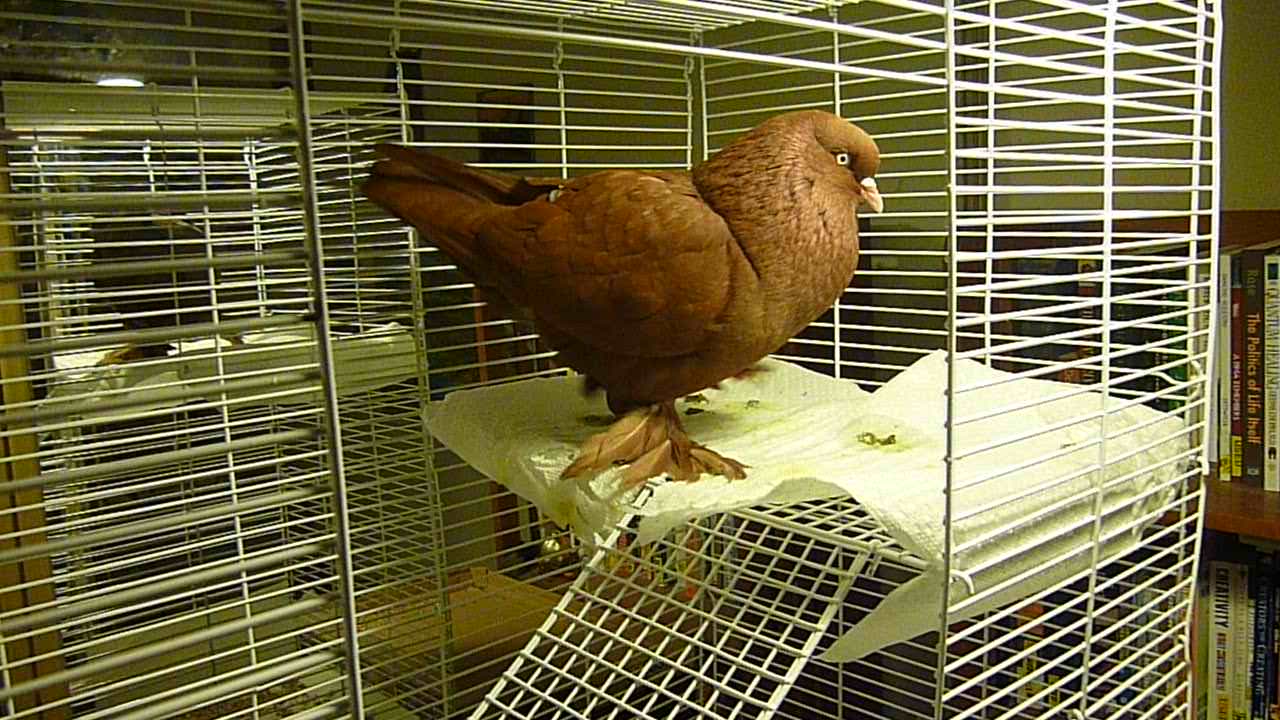 Eventually, I moved out of my parents home, got married and moved in with my in-laws (hardly an upgrade in living situation for most people, but knowing Bay Area home prices, it's not an unusual living arrangement nowadays). That's when I realized that I can not foster him anymore…and it broke my heart. Lost and panicked I couldn't bare the thought of trusting another stranger to care for Shmuel. I reached out to my friends and neighbors only to be more disappointed that they can't take him either.
Some online research lead me to find Palomacy and I finally felt like my prayers have been answered! Knowing that I had to re-home Shmuel within a month, I reached out to Elizabeth right away, pleading for help. I was amazed at how caring and understanding she was in helping me go through this situation. She not only offered a mountain of advice and explanation for Shmuels behavior, but she also agreed to take him into her foster care and give him a chance at a better life that I've always wanted for him. A week later I have brought Shmuel into her aviary, and he fit right in fairly quickly with other birds and felt at home flying around and enjoying the sunshine. I couldn't be more happy for him knowing that he will now have a chance to find a "wife" and be adopted out as a bonded pair to a wonderful forever home. I had to give this one up and it's so bitter-sweet to see him go, but knowing what I know now about pigeons and how much fun it is to have them, I will definitely look into adopting or fostering with Palomacy in the future (when I have my own home and enough space to build my own aviary), it's the least I can do for all that Elizabeth and her staff have done for me and Shmuel.
If any of you reading this are considering adopting him, please know that he is an amazing bird – he's not only very beautiful, but his personality is just irresistible. He really is quite a gem and I truly believe that anyone would be very lucky to add him to their family.
Editor's Note: Shmuel is currently fostered in Elizabeth's San Francisco aviary. He is single, eager to have a mate and available for adoption. He is a very gorgeous, charming bird who would be happy in either an aviary or, with a companion, as an indoor family pet. If you're in the Northern California area and interested in adopting Shmuel, please complete our online application. Palomacy thanks Olena for her loving care and advocacy for Shmuel as well as her generous donations and ongoing support. I wish every lost pigeon could find his way to someone like Olena.
---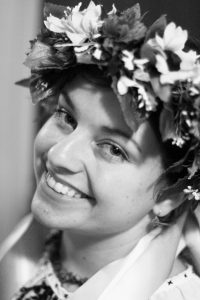 Olena Klingman is a dedicated professional musician, violin instructor and animal lover. She has been teaching private music lessons to children in the Bay Area since 2005. She grew up in Ukraine and always had a passion for rescuing animals, when not practicing her violin! Currently Olena lives in San Jose where she volunteers as a "dog socializer" at SJ Animal Care Center, and as a feral cat TNR specialist with Nine Lives Foundation in Redwood City. In her spare time, she enjoys traveling with her husband, singing, painting, and advocating for animal rights on her social media.