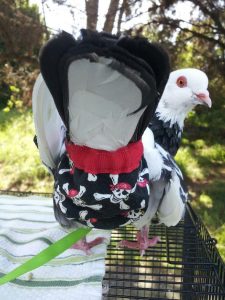 Rescued, unreleasable pigeons (of which there are so many) make great indoor pets. They are smart, good natured, easy going and quickly learn household routines. They bring lots of fun and happiness to your life. Pigeons, with a little patience, usually become very tame and friendly living indoors with you. And, thanks to pigeon pants, you can live together very comfortably! They don't have to always be confined to a cage and instead can join you around the house. Pigeons prefer to be naked but they are very good sports about wearing pants and adjust quickly.  Read more about pigeons in pants.
How to Put Pants on a Pigeon
Where to Buy Pigeon Pants (Please tell them Palomacy sent you!)
Important Note: When out of doors, never "walk" your leashed pigeon. Keep him safe in your arms, protected from dogs, cats, hawks, getting spooked and lost, etc., relying on the leash only as back up in case of an emergency.