Ms. Mina: A Rememberance of Gurumina
By Her Adopter Shaf K
I first laid eyes on Gurumina on Mickaboo's website in 2007. This was before MickaCoo became a reality. I had a white homing pigeon growing up, and thought that it would be nice to adopt another, similar looking bird. I had also lost a small finch I had rescued as a featherless baby the previous year. We shared a very short period of time together, but since I hand fed her every few hours during the first few weeks of her life, and she was completely bonded to me, her loss was a big blow. I was at a point where I felt like I could have another pet bird and provide it with a decent quality of life. Ms. Mina was perfect. I contacted Elizabeth, her rescuer, about her and we made arrangements for Ms. Mina to live with me.
Ms. Mina adapted to life with me very easily. She was quiet, had a very regular schedule, and had a rather mellow temperament at first, which, I have to admit, I took advantage of. Her appearance was so adorable that I could not help but scoop her up and kiss her on the head, or ruffle her feathers. She was fond of mirrors, eating dirt and/or lint if she could, large birdseed she could see and peck easily, sticking her head under ledges, taking naps, and would, when nobody was looking, flap her wings mightily at least once a day, in an attempt to exercise them, and perhaps, achieve flight.
My friends were charmed by her beauty and her attempts to join human conversations by cooing. My girlfriend works from home and Ms. Mina was a quiet companion that also became a part of her daily routine as well.  She provided Guruguru with enough attention to keep her amused, even using her as a subject for some of her sketches.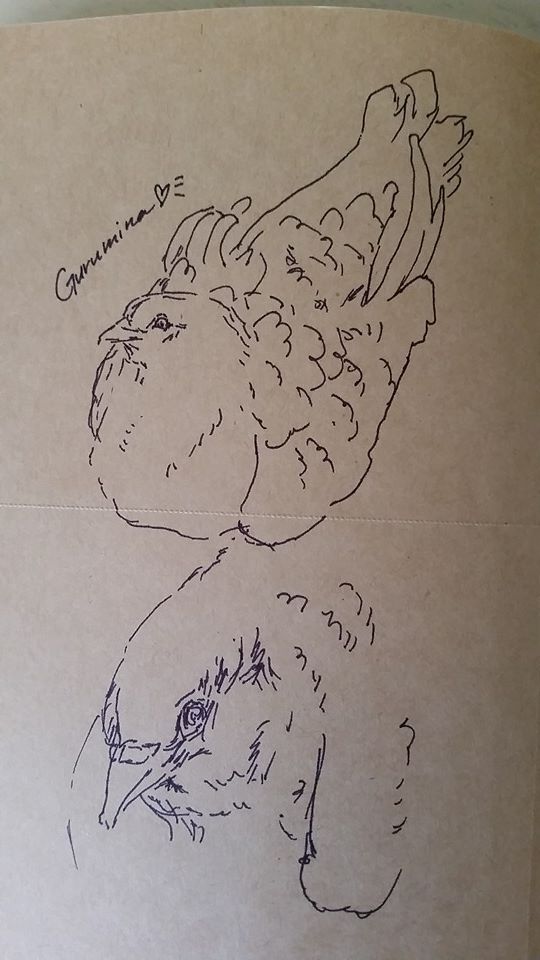 She accomplished a lot for a mere bird bred to be eaten. She is the one who inspired Elizabeth to start MickaCoo, and was a poster bird for Pet Food Express in Oakland. She was a show bird at an event at Filoli gardens, promoting MickaCoo, and even survived a cat attack.
I will miss her as much as I'm capable of, despite her crapping in places she shouldn't have. Really, that's the only complaint I have about her, and if that was the worst of it, she was a wonderful pet. (Besides, the stains were easy enough to sanitize and remove.) I wish more people knew how wonderful and soothing King Pigeons are.
To Gurumina; my beloved white, flightless, crap-machine, you will be sorely missed. I hope that you have gone to a better place, with many ledges to stick your head under, and lots of bird seed to loudly peck at. So many things remind me of your gentle presence. Perhaps one day we will be reunited. Until then, be happy, healthy, and joyful, my beautiful one.