What's a MickaCoo?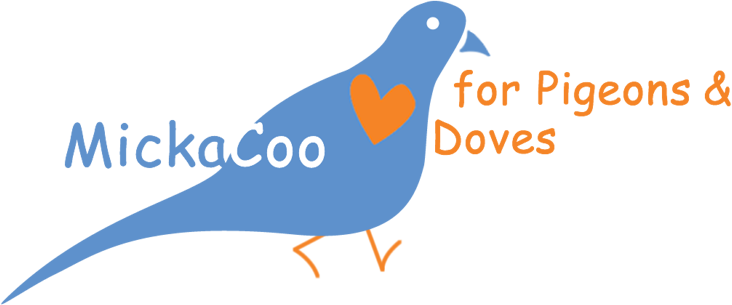 In 2007, I met a beautiful, tame, smart and very trusting King pigeon named Gurumina at the San Francisco animal shelter who, for lack of an adopter, was at risk of being killed. I knew she could be saved. I reached out to Mickaboo Companion Bird Rescue and asked if they would help me help her. (Mickaboo is the biggest bird rescue in the Bay Area and serves hundreds of parrots (mostly) each year. They said yes and thanks to their help and network, Gurumina found her home.
But Gurumina was one of many. Domestic pigeons and doves were being routinely killed in Bay Area shelters for lack of adopters or rescues. Shelters didn't know what to do with them or how to help them, the general public didn't know they existed, the breeders and hobbyists didn't care. Domestic pigeon and doves were the only animals in the San Francisco Bay Area animal welfare community that didn't have a rescue. Everybody else- the dogs and cats, rabbits and rodents, parrots and farmed animals, reptiles and wildlife- all had at least a hope of rescue- everybody except the domestic pigeons and doves.
When I started doing this, I had no intention of becoming a rescuer nor of creating a rescue but I've not been able to figure out how to walk away. And so I stayed. And Mickaboo (named after the co-founders' cockatiels, Mick and Aboo), allowed me to create a department within their rescue that we called MickaCoo Pigeon & Dove Rescue… because pigeons and doves coo. (I tease that when they start rescuing owls, they will need to create MickaHoo and MickaMoo if they rescue cowbirds!)
Fledging the Nest
In 2011, in pursuit of sustainability, MickaCoo transitioned from being a self-supporting department within Mickaboo to being a project of Community Initiatives (CI). As our fiscal agent, CI provides oversight and their nonprofit status extends to us. (We want to have our own nonprofit status someday but we will need volunteers dedicated to managing the application, record keeping and tax responsibilities.) Mickaboo was very generous as we "fledged the nest" and gave us their blessing to keep our name, MickaCoo Pigeon & Dove Rescue for as long as we chose. (You can read more here- Sustainability & MickaCoo's Next Steps: Fledging from the Nest)
Ever since, we have considered and explored the name issue. There is a lot of fondness for our original name and advantages to keeping it. There are also disadvantages. We've brainstormed, surveyed and pondered. Finally, after three years, we have decide to make the change to a new name.
Our New Name Is…
We will be announcing our new name on December 6th at our shared-with-Mickaboo Holiday Party (you're invited!) and implementing the change effective January 1st, 2015. 
While our name is changing, our mission continues.
MickaCoo Pigeon & Dove Rescue saves the lives of birds that are otherwise killed by helping San Francisco Bay Area shelters and finders. We provide guidance, referrals, education, long-term foster care, avian vet treatment and adoption services. Thanks to the support of our many volunteers, donors and partners, we have saved the lives of more than 600 birds since we began in 2007 and helped countless others.
Thank you for all of your support for this special work we do.

Elizabeth Young, Founder & Director MickaCoo Pigeon & Dove Rescue