Guest Post by Stefaney Mathews
It was November 22nd 2016 and a pigeon had flown into the shop where my husband, Andrew, works.  He called to tell me and I thought, If you can pick up a pigeon and put him back outside, he must not be feeling well.  My husband called me a little while later to tell me that the pigeon had now hopped onto a moving forklift and ridden back into the shop.  He continued to hang out with all the men, despite loud machinery and a lot of commotion.  I asked Andrew to please not put him back outside.  It was cold!  He was put in an office with water and crackers.  We didn't know anything about pigeons!  I got online, lickety split, and started to do my research. Luckily for us and that little pigeon, I found the Palomacy website.  I emailed the adoptkings gmail account, not thinking I would hear much back, rescuers are busy and can't help every individual. Boy, was I wrong!!  Not only did Elizabeth get right back to me, she called me, on my phone,  and talked to me for over an hour and walked me through all my fears and worries!!  I've never experienced anyone like her.  She was so kind.  So patient.  So encouraging and positive. I'm a pain in the butt and Elizabeth has only ever treated me sweetly, telling me we were on the right track, to follow our instincts and what a good job we were doing.  So, Andrew built him a house, to go in our living room, we brought him home that weekend and our lives have never been the same.  Who knew one could love a little grey bird so much you have to be careful not to snap his neck squeezing him too tightly and kissing the top of his hot head??
I could go on and on about Deandra (Sweet Dee, named after a character on It's Always Sunny in Philadelphia.  We guessed the gender, wrongly.) but I'm supposed to be recounting my Flocktober Fest road trip.  First of all, whatever possessed me?  I was just gonna drive down and party.  I wanted to meet Elizabeth and bad!  What the heck, we'll adopt two birds and I'll drive back, easy.  See, Andrew started building Dee and Taffy, Dee's wife, an aviary and the kids needed some same species interactions.  We thought a flock would be good for them.  A chance to make new friends, socialize and get pigeon enrichment.  I'm anthropomorphizing and I'm not ashamed of it.  Honestly, I have been hell bent on doing the right thing for Dee, wanting his life to be everything it could be, limited to the fact that he is trapped with us.  As the plan progressed it got a little bit bigger.  Elizabeth pretty much told me to bring Dee and Taffy along.  My head kinda exploded.  Andrew had built a good size aviary and Elizabeth and I discussed maybe two pairs.  Although Palomacy prefers local adoptions, as do Andrew and I, they were willing to part with some much loved birds to make room for others in need.
So now, I was driving down to San Francisco, a two day trip, with my two birds, staying two nights, adopting four more birds, another two days to get home, by myself!!  Where do I stay?  How do I get the birds from my car to the room, safely?  It seemed like a lot and then Andrew had the brilliant idea of renting an RV.  I wouldn't have to rent a hotel room, the birds would be safe, problems solved.  I could kill him.
Everything was cool till I realized I had to drive that thing, the beast, a 22 foot RV, the smallest one available, into San Francisco.  I drive a 1998 VW GTI.  It's the size of a clown car.  I was nervous.  I asked (begged) my good friend, Allison, to go on this adventure with me, mostly for moral support, but I knew she wouldn't hassle me about driving across a few states to adopt pigeons.  Unfortunately, she could only do the last leg.  That's okay.  I reserved my KOA campsites, spent a lot of time online and kept psyching myself up.  I also had my husband and Elizabeth and some super special friends cheering me on.  Andrew took apart the RV and made sure the birds, in their cages, would be safe when I slammed on the brakes.  Of course I was worried about disrupting my birds, they were sitting on some eggs.  They were troopers!  They barely batted a nictitating eyelid.  Pigeons are amazing animals.
I took off Thursday morning, after a quick cry (baby) and made it to Medford with no problems.  It rained the entire time, but it was surprisingly easy in the beast.  Getting into Alameda was a little more challenging.  I was so excited to get to Ploughshares.  Poor Elizabeth, who had an awful lot going on in her life, both good and bad, met me at the aviary.  It was a lovely day, Ploughshares was a beautiful nursery and the people there were immediately friendly.  Andrew and I had been on Petfinder looking at who was available, so I had an idea who was who.  We wanted birds who were aviary ready.  We wanted them all!  Batman and Max!  Tux and Whimsy!  Blaze and Mocha!  I fell in love with a little, grey fiesty, March, I think, and mate Grace?  Elizabeth and I brought in my two little rapscallions, and they are little compared to those Kings, and let 'em loose.  So cute!  I was terribly proud of both of them.  It was really neat to see them with other birds.  After some buzzing around, Elizabeth decided to torture Dee and crammed his adorable bum into pigeon pants.  It went well until he had a freak out and tried to fly.   Oh, my heart hurt.  He's sturdy though.  Taffy escaped, unscathed, almost, Dee beat the snot out of her in the carrier on the way back to the beast.
I now had to get from Alameda to Pacifica.  Friday night, 5:30.  What in the world??  I will never complain about traffic in my neck of the woods, AGAIN!!  It was like nothing I've ever seen before.  I've driven through Boston and navigated Logan airport.  I've driven through Manhattan, New Jersey and I've even driven through Chicago, numerous times, but holy smokes, that Bay Bridge was astounding.  I did make friends waiting for the toll booth…  It was dark when I finally got to Pacifica around 7:30 and I couldn't find the RV park.  I had a quick panic, Andrew helped me and the kids and I had a fine night.
I enjoyed Pacifica.  I could walk to get coffee and snacks and it was close to the event.  I took my very first Uber to get to Flocktober Fest, decided to make it a share even.  Those people didn't know what they were in for!  My girlfriend had missed her flight, so she was meeting me at the event.  The event… Flocktoberfest!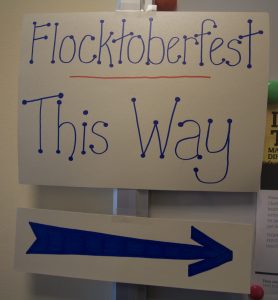 I was super nervous.  Overwhelmed and overstimulated.  Dee is a brat who is allowed to do whatever he wants and I baby him like he's the bubble boy.  Taffy is wild and wants nothing to do with us, so we leave her alone.  We don't press her or try to make her love us.  We give her all the space she wants.  Now I had them at a party!!  Also, Dee is a jerk, domestic abuser, who takes his frustrations out on his poor, little wife.  When Dee is unable to process his emotions he takes it out on Taff.  They were in their new carrier and Taffy was getting the beat down from her husband.  Well, Liese gave Dee a schooling.  It was terrific to watch.  He was in pigeon pants and on his side getting manhandled.  I loved it.  Liese had other birds to love on, so she gave me back my PoopyBear and he proceeded to put the smack down on me!  I lack the bird handling skills of my fellow pigeon rescuers and I've got scars to prove it!  I shoved him back in their carrier and tried to keep calm.  I needed to get out there and meet my heroes.
You can see all the Flocktoberfest fun here.)
Elizabeth had put me in touch with friends and fellow Palomacy wonderworkers when Dee first came home and I needed extra encouragement with his care.  Jill was there for me and I recognized her immediately, it was terrific to finally meet her in person.  I had my eye on Spike and Apina and I recognized their mother, Cheryl, who was working her magic and had both kids with her.  I didn't know it when I got there, but I would be bringing them home with me that night.  I'm an Instagram stalker, I don't post much, but I love to follow people and their pigeons.  I got to meet Miu and her mother, Cynthia and her friends, Kumi and Kai.  Ashley Dietrich is a wonderful artist and has an amazing rescue aviary and Andrew and I are the proud owners of two of her pieces of artwork, Hester and Jacob.  I loved Sophia and her dad, Nathan.  I spotted Captain Cardamom, that cutie, now Charming, and got a pic!  I love Stephanie's aviary and hope all is going well with Fleetwood and Hootie.  I set up shop next to Faye, who could not be sweeter, and her two fosters, Cookie and Delilah.  I did not know I would be bringing them home by the end of the night too, along with Spike and Apina.  And, to top it off, Maryam!  What a kid!  So great to talk with her and meet Pearl!  So many wonderful people, I wish I'd had more time.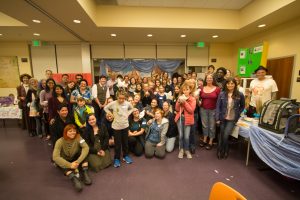 The spread was amazing!  The prizes were fantastic.  The music was bumpin!  The MC was rockin' it.  The people who make up Palomacy are an amazing bunch of people who give rescue a good name.  I'm always so impressed with their constant devotion and dedication.  The outreach, the fundraising and the endless education they offer is astounding.  Their compassion and the sincerity they treat all they encounter is an inspiration.  I was scared to embark on my adventure, but I'm so glad I did.  Not only did I get to meet people I truly admire I brought home four beautiful birds to complete our family.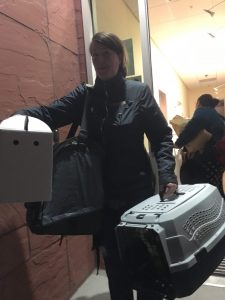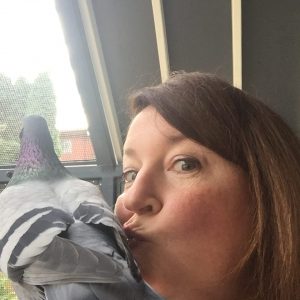 Stefaney writes, I live outside of Seattle, Washington with my husband, Andrew, two cats, two dogs and two pigeons.  Hold on, six pigeons!  And, I blame Elizabeth.  In truth, if anyone is to blame, it's Deandra.  A sweet little bird found us and changed our lives.  I thought I knew a lot about rescue and a lot about those animals in rescue, but a whole new world has opened up to me.  Of course, when one gets involved in rescue efforts it can be so rewarding and fulfilling and also, so heartbreaking.  I feel very lucky to have found a group of people who are optimistic, positive and working their tail feathers off to make a difference in the lives of not just pigeons and doves, but all animals and everyone they meet.  Now, all I need to be complete is a pony…
Editor's Note:
Based on Dee's self-rescuing, human-seeking behavior & his weak, emaciated condition, he was most likely found as a nestling, raised up in a human home (becoming totally imprinted on people) & then was either "released" with the (misguided) expectation he could survive on his own (or because he was no longer wanted) or he might have been a cherished pet who was allowed to be outdoors unsecured (or free- fly) & got lost that way. Palomacy knows of a great many self-rescuing, tame Rock pigeons like Dee who, when they were unable to survive on their own, were lucky to find a kind person to help them. Unfortunately, not all do. (Learn about how to care for a rescued pigeon
here
.)